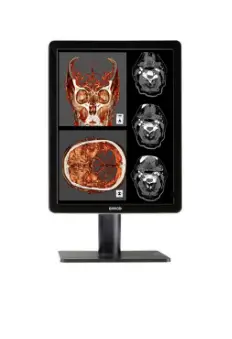 There is one more group of monitors that is almost unknown to ordinary users, but is known to healthcare workers. This is a group of monitors that is developed specifically for hospitals, medical monitors. Medical monitors are produced by leading manufacturers of monitors and TVs such as LG, NEC, BENQ.
Monitors for medical needs are divided into the following categories:
Surgical medical monitor
Surgical: designed to work in the operating room, the difference between screen protection with specially designed glass, reducing glare and image distortion, waterproof monitors, matrices transmitting about 99% of color shades, improved red color display, increased number of shades for more accurate display of the patient's condition during operations . Special image processing algorithms ensure the display of black and white images (relevant for viewing X-ray and MRI images in accordance with the DICOM Part 14 standard.
Clinical overview medical monitor
Clinical overview: these monitors are intended for viewing X-rays, MPT, support for DICOM Part 14, the ability to divide the screen to display multiple images at the same time.
Consider the table in which the main parameters of medical monitors are given.
№
Brand
Model
monitors
monitor
assignment
Release
Size
screen
inches
Type
screen
Aspect
Ratio
Panel bit
depth
Refresh
Rate HZ
Resolution
Port
1
LG
27HJ710S
Surgical monitor
2016
27
IPS + Glass
16:9
10bit/sRGB 99% + Deep Red
60
3840 x 2160
1xDVI-D
1xSDI
1xHDMI 2.0
1xDisplayPort 1.2
USB3.0 1up 2down
2
LG
27HJ712C
Clinical Review Monitor
2016
27
IPS
16:9
10bit/sRGB 99%
60
3840 x 2160
2xHDMI 2.0
1xDisplayPort 1.2
USB3.0 1up 2down)
3
NEC
MD211G5-N1
Clinical Review Monitor (mammography) graphics of NVIDIA
2016
21.3
IPS
4:5
monochrome
75
2048 x 2560
1xDisplayPort 1.2
DVI-D
2xUSB 2.0
4
NEC
MD211G5-A1
Clinical Review Monitor (mammography) graphics AMD
2016
21.3
IPS
4:5
monochrome
75
2048 x 2560
1xDisplayPort 1.2
DVI-D
2xUSB 2.0
5
NEC
MDC551C8
Clinical Review Monitor
2017
55
SPVA
16:9
10bit
60
3840 x 2160
1xDisplayPort 1.2
2xDVI-D
4xHDMI 1.4
6
Sony
LMDX550MT
Surgical monitor 3D / 2D
2017
55
IPS
16:9
10bit monochrome
8bit RGB
120
3840 x 2160
1xDVI-D
1xHDMI 1.4
4xBNC (3G/HD/SD-SDI)
D-sub
RJ-45
7
Sony
LMDX310MT
Surgical monitor 3D / 2D
2017
31
IPS
17:9
10bit monochrome
8bit RGB
60
4096 x 2160
1xDVI-D
1xHDMI 1.4
4xBNC (3G/HD/SD-SDI)
D-sub
RJ-45
8
Sony
LMD2735MD
Clinical Review Monitor
2016
27
IPS
16:9
8bit
60
1980 x 1080
1xDVI-D
1xBNC
D-sub
9
Sony
LMD2435MD
Clinical Review Monitor
2016
24
IPS
16:9
8bit
60
1980 x 1080
1xDVI-D
1xBNC
D-sub
10
Sony
LMDX550MD
Surgical monitor
2015
55
IPS
17:9
10bit
60
3840 x 2160
1xDVI-D
11
Sony
LMDX310MD
Surgical monitor
2015
31
IPS
16:9
10bit
60
4096 x 2160
1xDVI-D
12
BENQ
MD310C
Clinical Review Monitor
2017
21.3
IPS
4:3
8bit
60
2048x1536‎
1xDVI-D
1xDisplayPort
13
BENQ
SE26101
Surgical monitor
2016
26
IPS
16:9
8bit
60
1980 x 1080
2xDVI-D, 1xDisplayPort
1xVGA
1x3G-SDI(BNC)
RGBS/YPbPR
1xS-Video(DIN-4)
1xComposite(BNC)
14
BENQ
MD210G
Clinical Review Monitor
2015
20.1
VA
4:3
8bit monochrome
60
1600x1200
1xDVI-D, 1xDisplayPort
1xVGA
USB 2.0 (1 upstream, 2 downstream)‎
15
BENQ
MD310G
Clinical Review Monitor
2015
21.3
IPS
4:3
8bit monochrome
60
2048x1536
1xDVI-D, 1xDisplayPort
USB 2.0 (1 upstream, 2 downstream)‎
NEC, LG, Sony medical monitor