Whether quantum dot burn out TVs explained
In modern TVs on quantum dots, the problem of burning out pixels on the TV monitor screen is not relevant. Manufacturers have solved this problem. Quantum Dot are LED displays, they do not emit light, the initial problems with Quantum Dot displays were related to the change in the properties of nano materials, in the beginning they were unstable and could change the luminous flux throughput.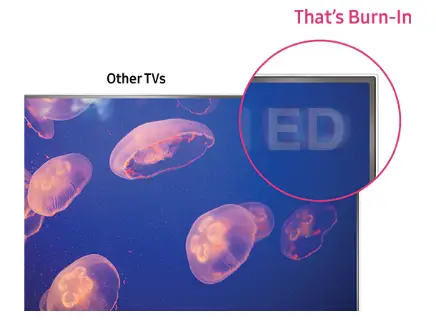 After starting the OLED sales and Quantum Dot TVs and monitors as that almost no one paid attention to the deficiencies that exist in these screens. One of the main disadvantages is susceptibility to burnout.
Although Quantum Dot screens have good color and brightness but due to their use in the manufacture of organic materials, they eventually lose brightness.
Samsung warns users that Quantum Dot displays are subject to fading the screen until the message can be seen only on Samsung in the United States.
Samsung 2016 SUHD TVs guarantee no burn-in.
*"Burn-in" is a permanent defect in areas of a TV display that can be caused by cumulative effects of displaying the same image or scene for long periods of time, sometimes even as little as one hour.
**In the event of burn-in from normal consumer use, Samsung Customer Service (1-800-726-7864) will either repair or replace at its option the 2016 SUHD TV with a similar model. This guarantee requires valid serial number, valid picture proof of burn-in, and product registration on Samsung.com starting from September 9th, 2016. Does not cover fraudulent claims or claims of burn-in resulting from negligence or improper use of TV. Repair or replacement may take up to 2-3 weeks.

 
You can read the warning on the screen burn when the screen is static image for an hour. As well as a message stating that a TV can be replaced with a comparable set out above, subject to conditions