After the presentation of new models of television sets at exhibitions, Samsung officially presented QLED TVs in North America.
Determined to promote this line of TVs with distant prospect. Samsung has allocated this series in separate giving her the name of a series of Q.
At the beginning of March represented TVs Q7 and Q8 series. C designation 55 "Class Q7F QLED 4K TV or total technical mark.
QN55Q8CAMFXZA
QN55Q7FAMFXZA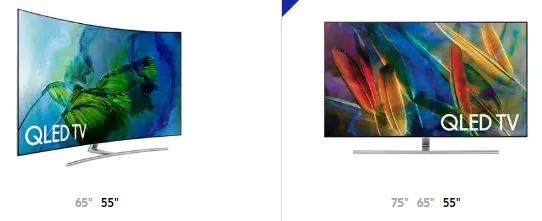 What is so special about these TVs?
The peculiarity of this series of new screens, better than SUHD series. The TVs are 4-core processors, although it is particularly about anything does not speak for a few years, the technical specifications established by the processors are not specified in the technical documentation, but we can safely suggest that their characteristics are comparable to processors established in mobile phones in 2016.
Differ series Q7 and Q8 only the screen is bent in Q8 series.
A little about the technical characteristics, support the frame rate on the display 240 frames per second, although the recall of existing standards in the maximum frame rate of 60 per second. More simply not necessary, the human eye no longer sees the flickering over 50 times per second. If the TV and will show with such frequency only when the image smoothing mode.
Detailed Specifications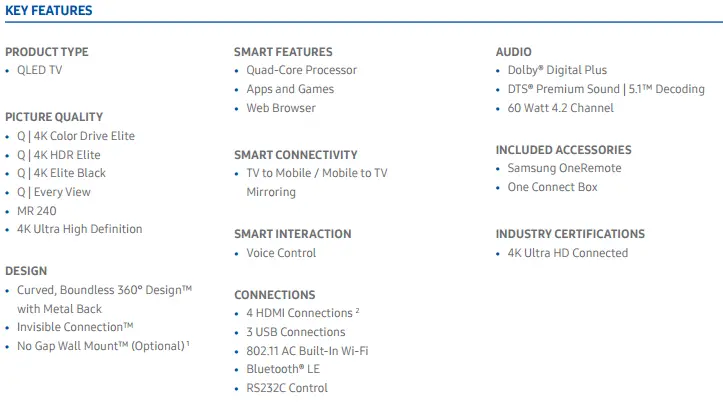 TV Designation Q Series has changed a bit, more detail can be found in article identification Samsung TV.
For the European TV market model will have a slightly different notation, probably specifications will be the same in Europe and the United States.