In the phones you can see the EID number. What does the EID number mean?
EID is an "Embedded Identity Document". Built-in SIM card identifier in the phone. This is a new format of Sim cards that allows you to use the services of a mobile operator without the need for an external Sim card. Such embedded Sim cards are called eSIM.
Note that electronic sim cards appeared not long ago.
EID for Embedded SIM (eSIM) explained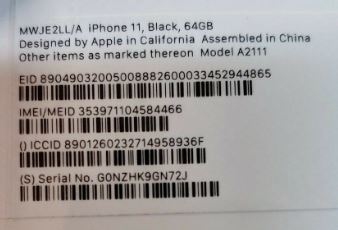 In 2014, the concept of the next generation of Sim cards was adopted. This concept implied a complete rejection of the use of removable sim cards. The SIM card chip is installed in the phone or other device at the factory. Embedded SIM (eSIM) SIM card has a unique number, this number is called eID and consists of 32 digits. eSIM card is not tied to the operator, using the EID you can connect the phone to any operator that supports working with built-in SIM cards.
Why do I need an EID number
The EID number is in the phone's memory, in addition, it is written on the packaging of the electronic device. When using your phone, you may need this number.
EID is needed to connect to the services of a mobile operator. If the mobile operator supports working with eSIM cards, then you can use the services of a mobile network without the need to purchase a sim card.
How to activate eSIM using EID
The procedure for activating the built-in SIM card depends on the mobile operator. But usually it happens as follows.
The operator should get your EID number and bind it to your account, as well as assign a mobile phone number to your EID.
Connection of EID at postpaid rates, contract
You need to get a QR code, this QR code is generated by a mobile operator. You contact the representative of the mobile operator in one of the stores. An account will be created for you, and if you already have an account, they will simply transfer the existing phone number. Why do you need to visit the store, as a rule, phone numbers associated with your authorized account are more secure, the operator checks your documents without your personal visit to the store, does not make any changes or changes to your account. These phone numbers are tied to bank cards and other services that require maximum protection against unauthorized access.
Connecting a phone number using EID at prepaid rates
Since phone numbers with prepaid rates are less secure, to activate the built-in SIM card, just download the operator's mobile application and select a tariff plan. If you transfer the phone number from an ordinary Sim card to eSim, you may also need to visit the store.