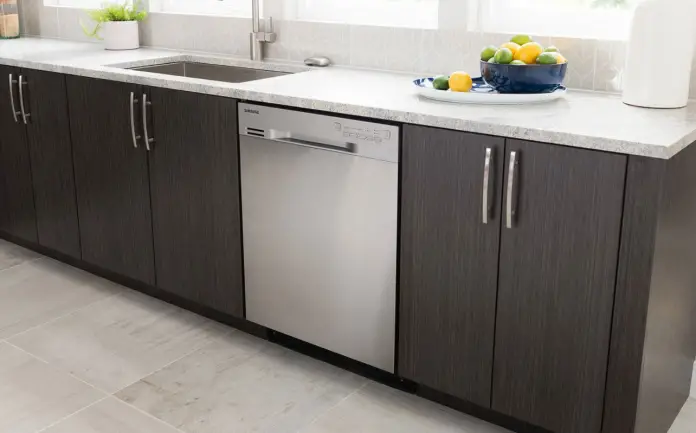 Samsung dishwashers, like any other appliance or appliances have a model number that allows you to know the specifics of the dishwasher, including the width, year of release of the particular model, region of sales, etc.
Samsung adapts to the peculiarities of how customers in a particular country perceive the type of dishwasher and indicates in the name the parameters that customers in a particular country are most interested in.
For example, in the USA, it is customary to underline the feature of a dishwasher, so you can see the name like StormWash™ 48 dBA Dishwasher in Tuscan Stainless Steel or Smart Linear Wash 39dBA Dishwasher in Tuscan Stainless Steel.
In the UK, it's customary for the dishwasher's name to indicate the series, size type, and a number of sets of dishes that can be washed in a single load.
For example, you might see the names like Series 6 Freestanding Full-Size Dishwasher, 14 Place Settings, or a Series 6 Built-in Full-Size Dishwasher, 13 Place Settings.
However, this is only a commercial name, which was created primarily for the purpose of marketing.
Whatever the manufacturer calls the dishwasher, it always has a model number, which contains more detailed information about the specific model. In addition, the model number is used to find parts in service center catalogs and to identify which model it is.
What does Samsung dishwasher model number means
Now I will tell you in more detail what information you can get about the dishwasher using model number. Let's look at model number DW80R7060UG/AA as an example.
DW – Dishwasher.
80 – Dishwasher width (actually it's not the width of the dishwasher itself, but the dishwasher space, the real size is a little smaller).

80 – standard dishwasher (used in the U.S.) that is about 60cm wide (24 in).
60 – standard dishwasher width for Europe.
50 – narrow dishwasher 45cm (18 inches).

R – the year of development of the dishwasher model.

B – 2022
A – 2021
T – 2020
R – 2019
N – 2018
M – 2017
K – 2016
J – 2015
H – 2014
F – 2013
E – 2012
D – 2011
C – 2010
B – 2009
A – 2008

7 – series
0 – series model
60 – modification
U – design
G – the color of the dishwasher

W – white
S – silver
G – graphite
B – black

AA – a country the dishwasher is made for

AA – US, Canada
EU – UK
EO – Germany
EF – France
EC – Spain
ET – Italy
WT – Russia, Ukraine
Read also: