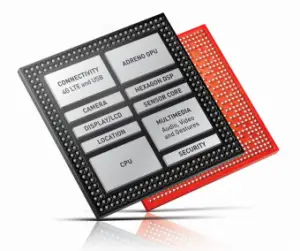 Lagging a bit in the development of new chips for mobile devices in early 2015, Qualcomm has developed and released a new 4-x-core Snapdragon processor 820, made on 14nm technology, which means a reduction of energy consumption, the nucleus are called Kryo™.
On the main characteristics can be distinguished
the frequency of the cores of 2.2 GHz
integrated graphics chip Qualcomm® Adreno ™ 530 GPU
DSP processor (signal processor) Qualcomm® Hexagon ™ DSP 680
Support digital camera 25 Mp
Support for 4K video
USB 3.0 support
Support for various communication standards, up to LTE.
What distinguishes this processor, production technology, managed to create a new kernel which uses less energy. and therefore less heated and had at the same clock speeds will be higher performance.
This chip is oriented to mobile devices, tablets.
Snapdragon 820 Processor Features