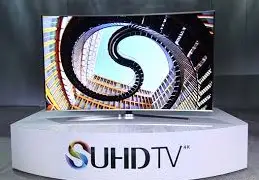 SUHD (Super Ultra-high-definition)
SUHD (Super Ultra-high-definition) - super high definition, is the name given to devices with screens made by the new technology of quantum dots, QUHD screens. Such term (SUHD) introduced into use by Samsung which is also engaged in the development of quantum dot screens.
SHUD trademark  Samsung. According to some sources, such as Yonhap News Agency Samsung filed for trademark registration SUHD.
 (The company has submitted a trademark application for five OLED TV brand names—Super UHD OLED, Ultra Super OLED, Samsung Super Ultra OLED, Ultra OLED and Super UHD in Seoul on Jan. 26, according to the Korean Intellectual Property Office.).
In 2015, the sales will go TVs made by technology of quantum dots.
Although the term is directly super does not apply to this screen, picture clarity is absolutely identical, which screens UHD produced by LED technology, OLED and SUHD.
Although Samsung has not officially stated that it SUHD super, most likely this is due to the ongoing procedure of trademark registration.
In fact SHUD just means that the TV screen or other device made by the technology of quantum dots, although the technology of quantum dots is also just coined the term.
In fact, the screens SUHD (QLED) displays are used specially developed material whose particles (crystals) are in excess of the small size of this  1,5-5nm: 1м х 10−9. 
Of these ultrasmall crystals made screens. Particles of this material when applying voltage to them begin to emit light that sees people on the particle size depends on the color of light.
It should be noted that while in TV set screen displays which are called quantum dot, but in reality is produced hybrid displays. Green and red pixels are produced by quantum dots technology, but rather an ordinary blue pixel LED display, only the lights instead of white LEDs, blue. Such a hybrid display is available for a very simple reason, the life of the blue quantum dots is very small and is 10,000 hours, which is significantly less than the standard for displays, the default life of your display to be about 30,000 hours.
Display Technology quantum dot is similar to OLED displays are created for itself emitted organic light emitting diode. But Samsung saw in this technology a great perspective and decided to curtail the development of OLED displays, focusing all efforts on the development of QLED (SUHD) displays. As we can see the company's success are very important, on sale Samsung TVs made by SUHD (QLED) technology.
Production QLED (SUHD) displays cheaper production of OLED displays, consider the examples TVs in 2015 in the United States.
Samsung UN65JS9500-5999$ - 

SUHD technology

 LG 65EG9600-

8999$ -

OLED technology
As we see on television in 2015, the price of the TV SUHD cheaper by 30%, they consume 30% less energy, the light output is comparable with OLED But there is one distinct advantage, you can make the display of any shape.