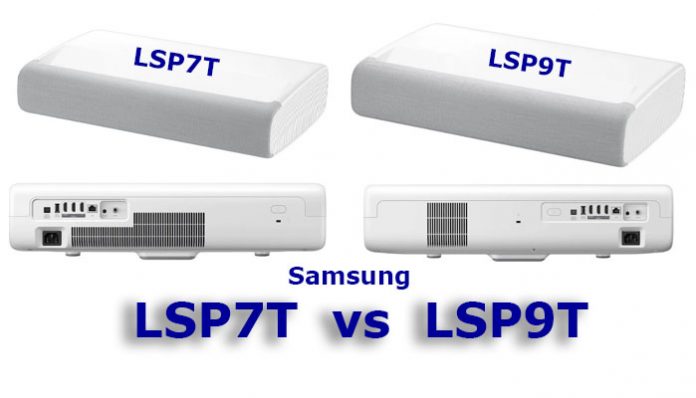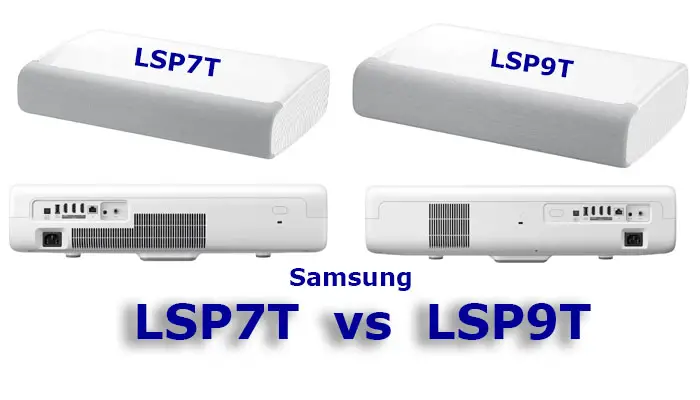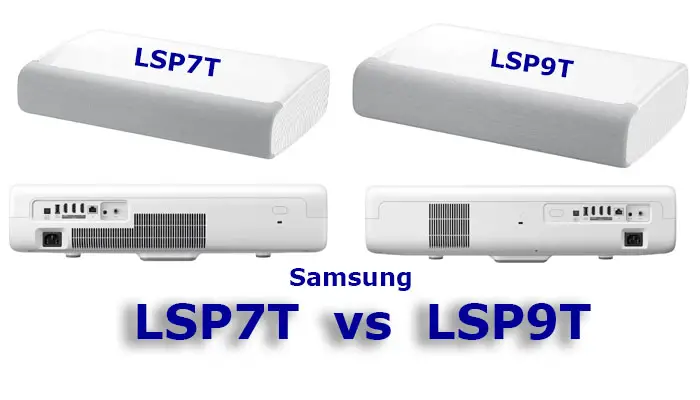 Laser projectors from Samsung models LSP7T and LSP9T are externally the same, but technically have differences. Therefore, the price of the model 9T is $2000 more than the model 7T. What are the differences between the models of projectors, the difference in laser power, it can be seen from the parameters of brightness and contrast in the model LSP9T more than 30% more than in the model LSP7T, it is also possible to install different chips vialization DLP, indicating that the projectors can create images of different sizes.
The LSP7T can display an image of 80-120 inches.
LSP9T – 90-130 inches.
The second significant difference is the 30W sound power and 2.2W format for the LSP7T (2 speakers and 2 subwoofers) and 40W format 4.2 (4 speakers and 2 subwoofers) for the LSP9T, although this is not particularly significant, especially if you plan to use an external sound system. Processors, number of ports is the same. The projectors also support HDR of different formats. Projectors work under the control of the operating system Tizen, the same operating system is installed in Samsung TVs. To control the precentors used remote TM-1850A, this model 2018, works with TVs series N.
Projectors from Samsung LSP7T and LSP9T – although projectors, but with the functionality of the TV and can be used as a home theater.
Specifications LSP7T vs LSP9T compare
LSP7T
LSP9T
Picture
4K UHD Ultra-Bright Laser
4K UHD Ultra-Bright Triple Laser
HDR10+ (HDR10 & HLG)
HDR10+ (HDR10 & HLG)
UHD Processor
UHD Processor
PurColor
PurColor
Game Enhancer
Game Enhancer
Contrast:
1,000:1 ANSI Contrast
1,500:1 ANSI Contrast
2,000,000:1 Full ON/OFF (Peak)
2,000,000:1 Full ON/OFF (Peak)
0.254 Throw Ratio
0.189 Throw Ratio
2200 ANSI Lumens
2800 ANSI Lumens
Design
Compact Minimal Design
Compact Minimal Design
Ultra-Short Throw
Ultra-Short Throw
Premium Fabric from Kvadrat
Premium Fabric from Kvadrat
Smart Features
Smart TV Powered by Tizen
Smart TV Powered by Tizen
Universal Guide
Universal Guide
Multiple Voice Assistants
Multiple Voice Assistants
TV Plus
TV Plus
Samsung OneRemote
Samsung OneRemote
Tap View
Tap View
Connections
3 HDMI Connections1
3 HDMI Connections1
1 USB Connection
USB Connection
LAN Port
LAN Port
802.11AC built-in Wi-Fi
802.11AC built-in Wi-Fi
Bluetooth
Bluetooth
RS232 Control (Ex-Link)
RS232 Control (Ex-Link)
Optical Audio Output Port
Optical Audio Output Port
Digital Broadcasting, ATSC/ClearQAM RF in (Terrestrial/Cable Input/Satellite Input), 1/1 (Common Usefor Terrestrial)/0
Digital Broadcasting, ATSC/ClearQAM1 RF Input: Terrestrial broadcast 1 RF Input: Terrestrial broadcast(ATSC 1.0) or Cable (ClearQAM)
Analog Tuner
Analog Tuner
Audio
Dolby Digital Plus
Dolby Digital Plus
30 Watt 2.2 Channel
40 Watt 4.2 Channel
Samsung Acoustic Beam
Included Accessories
Samsung OneRemote
Samsung OneRemote
Industry Certifications
CTA 4K Ultra HD Connected
CTA 4K Ultra HD Connected
Filmmaker Mode
HDR10+
Filmmaker Mode